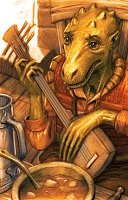 Featured in: Shadows of Undrentide, Hordes of the Underdark
Alignment: chaotic good (SoU), true neutral (HotU)
Class: bard, rogue (SoU only), red dragon disciple (HotU only)
Deekin is a rather remarkable member of the Dripping Fang clan of kobolds. Unlike other kobolds, Deekin aspires to something "bigger" than mining, marauding and looting. He aspires to be a skald, a noble northern bard of legend. His goal is to write a heroic saga that will rival any of the classics... His chief problem is that his fellow kobolds are anything but heroic. Deekin has recently decided that he'll have a look a little further afield if he is going to find a hero befitting his saga.
He used to sing and tell stories to his master, a white dragon named Tymofarrar. Through Deekin, the PC can learn that Tymofarrar used to transform himself to become a human to eat pies, that Tymofarrar paralysed Deekin to pick his teeth, and that Tymofarrar was teaching Deekin to become a sorcerer and a chief of the tribe, but Deekin wasn't very good at it.
Gameplay
[
]
Deekin is first met in Chapter 1 of the Shadows of Undrentide campaign, where he has run away from Tymofarrar. Deekin meets the player again in the Interlude and is among the henchmen (along with Dorna Trapspringer and Xanos Messarmos) who may be chosen to join the player's party. If the player concludes the Interlude with Deekin (or either of the others) as a henchmen, the option remains for him to accompany the player until the end of the campaign as desired.
Deekin's star rises as he writes a book about the Undrentide incident, and he soon finds his way to Waterdeep as the troubles begin in the Hordes of the Underdark campaign. Joining forces once again with the player, he travels into the Underdark to help stop the threat of the Valsharess. Deekin is the only henchman who will accompany the player through all three chapters of the Hordes campaign. (However, due to a bug, Deekin must be dismissed and rehired in Chapter 2 in order for him to accompany the player into chapter 3.)[citation needed]