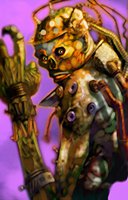 While flesh golems are not true undead, these ghoulish constructs are crafted from collections of stolen human body parts, stitched together into single composite form.
Statistics
Edit
Race: construct
Alignment: true neutral
Armor class: 18
Hit points: 49
Attack bonus: +10/+5
Damage: 2d8+5 bludgeoning damage (creature weapon)

Trained skills:(‡) none
Feats: darkvision, weapon proficiency (creature)

Blueprint:(‡) nw_golflesh
Special abilities
Edit
A flesh golem has the usual construct immunities to critical hits, death magic, disease, level drain, ability drain, mind-affecting spells, paralysis, poison, and sneak attacks.
A flesh golem can enter a greater rage twice per day.
Community content is available under
CC-BY-SA
unless otherwise noted.