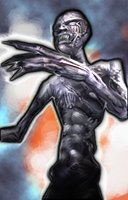 Ghasts: More deadly and cunning than their lesser kin, the ghoul, these undead carrion eaters have the added ability to paralyze their victims.
Statistics
Edit
Race: undead
Alignment: chaotic evil
Armor class: 21
Hit points: 60
Attack bonus: +7
Damage: d4+3 / d4+3 / d8+3 (claw/claw/bite creature weapons)

Trained skills:(‡) listen (10), move silently (10), search (7), spot (8)
Feats: cleave, darkvision, knockdown, power attack, toughness, weapon finesse, weapon proficiency (creature)

Blueprint:(‡) nw_s_ghast
Special abilities
Edit
A ghast has the usual undead immunities to critical hits, death magic, disease, level drain, ability drain, mind-affecting spells, paralysis, poison, and sneak attack.
The ghast's creature weapons have on-hit effects — the two claw attacks inflict ghoul rot, while the bite stuns. In addition, this creature can use tyrant fog zombie mist once per day.
This creature has the animal companion conversation, allowing it to be healed by its master (a bug).
This is one of the creatures that can be summoned with the create undead spell or create undead and summon undead feats.
Community content is available under
CC-BY-SA
unless otherwise noted.