This article is about the standard creature; for the animal companion, see Giant spider (animal companion).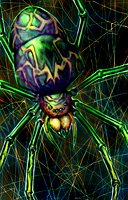 Aggressive, nightmarish predators, giant spiders first trap their prey within their webs, then subdue them with poisonous venom.
Statistics
Edit
Race: vermin
Alignment: true neutral
Armor class: 14
Hit points: 22
Attack bonus: +4
Damage: d8+2 slashing damage, on monster hit: large spider venom

Trained skills:(‡) hide (9), spot (7)
Feats: darkvision, weapon proficiency (creature)

Blueprint:(‡) nw_spidgiant
Special abilities
Edit
The giant spider is immune to all mind-affecting spells and the specific spell web.
External links
Edit
Community content is available under
CC-BY-SA
unless otherwise noted.