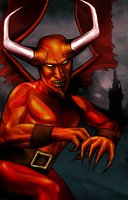 Small but insidious devils often bound to the service of sorcerers and wizards, imps have a gleeful attraction to pranks, riddles, and bawdy jokes.
Statistics
Edit
Race: outsider
Alignment: chaotic good
Armor class: 19
Hit points: 19
Attack bonus: +12/+7
Damage: 1d4+2 piercing damage, on-hit: quasit venom

Spell resistance:
10
Damage reduction:
10/+1
Regeneration:
+2
Trained skills:(‡) hide (19), listen (6), move silently (9), search (5), spellcraft (5), spot (6)
Feats: darkvision, dodge, weapon finesse, weapon proficiency (creature)

Blueprint:(‡) nw_s_imp
Special abilities
Edit
This imp is immune to poison and can cast magic missile at caster level 5 twice per day, and invisibility at caster level 6 thrice per day. It also has use of its fire bolt five times per day.
The alignment of this creature is likely bugged as devils are lawful evil.
The weapon used by this summon tends to be ignored by spells (e.g. magic weapon).
This is one of the creatures that can be summoned with lesser planar binding.
Community content is available under
CC-BY-SA
unless otherwise noted.