New Pokemon Games - The Loop
Play Sound
This article is about the standard creature; for the familiar, see Pixie (familiar).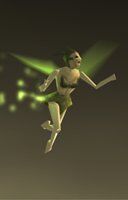 Talented illusionists and irreverent pranksters, pixies make their homes in hollowed trees and rocky grottoes, deep within the forests.
Statistics
[
]
Race: fey
Alignment: neutral good
Armor class: 16
Hit points: 3
Attack bonus: +5
Damage: 1d4-2 piercing damage (dagger, 19-20/x2 criticals)

Trained skills:(‡) concentration (4), heal (8), hide (16), listen (10), move silently (12), search (12), spot (10)
Feats: dodge, point blank shot, weapon finesse, weapon proficiency (creature), weapon proficiency (simple)

Blueprint:(‡) nw_pixie
Standard loot: fairy dust
Special abilities
[
]
The pixie can cast confusion, entangle, and dispel magic at caster level 8, each once per day.