New Pokemon Games - The Loop
Play Sound
This article is about the standard animal; for the familiar, see Raven (familiar).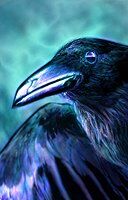 Ravens: With their cold eyes and glossy black feathers, these airborne scavengers are often considered ill omens or harbingers of death.
Statistics
[
]
Race: animal
Alignment: true neutral
Armor class: 10
Hit points: 5
Attack bonus: +0
Damage: 1d2 - 4 piercing-slashing damage (creature weapon)

Trained skills:(‡) listen (8), spot (8)
Feats: weapon finesse, weapon proficiency (creature)

Blueprint:(‡) nw_raven
Craft drop: feathers
Notes
[
]
Ravens are of the commoner faction and, as a result, are non-hostile.
Shares appearance with: stirge