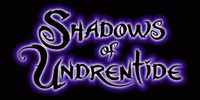 Shadows of Undrentide (SoU) is the first of the official expansion packs.
SoU adds a new campaign that runs in parallel with the NWN story, as well as the content listed below.
New skills, feats and prestige classes
[
]
New spells
[
]
Apart from the prestige classes and the campaign, the rest of the content added is also available in second expansion pack Hordes of the Underdark.
External resources
[
]