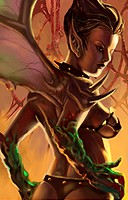 With perfect builds and flawless skin, succubi are the most comely of demons. They live to tempt mortal men into crimes of passion.
Statistics
Edit
Race: outsider
Alignment: chaotic evil
Armor class: 24
Hit points: 57
Attack bonus: +11/+6
Damage: 1d8+3 / 1d8+3 / 3 (claw/claw/slam creature weapons)

Spell resistance:
12
Damage reduction:
20/+2
Trained skills:(‡) concentration (10), hide (12), listen (18), move silently (12), search (12), spot (18)
Feats: cleave, darkvision, dodge, mobility, sneak attack +3d6, weapon proficiency (creature)

Blueprint:(‡) nw_s_succubus
Special abilities
Edit
A succubus is immune to poison, and her slam attack drains a single level on-hit, while her claw attacks are capable of +2 vampiric regeneration. This creature can cast a number of spells as spell-like abilities (cannot be countered or interrupted) with a caster level of 10. These abilities are bestow curse, Evard's black tentacles, haste, lightning bolt, and vampiric touch, each usable three times per day.
Community content is available under
CC-BY-SA
unless otherwise noted.