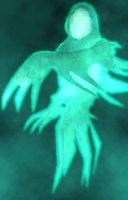 Wraiths are incorporeal creatures born of evil and darkness. They despise all living things, as well as the light that nurtures them.
Statistics
Edit
Race: undead
Alignment: chaotic evil
Armor class: 13
Hit points: 32
Attack bonus: +2
Damage: 1d4 piercing-slashing damage (critical: 20/x2)

Trained skills:(‡) hide (14), listen (16), search (12), spot (16)
Feats: alertness, darkvision, weapon proficiency (creature)

Blueprint:(‡) nw_wraith
Special abilities
Edit
A wraith has the usual undead immunities to critical hits, death magic, disease, level drain, ability drain, mind-affecting spells, paralysis, poison, and sneak attacks. Furthermore, these monsters are incorporeal (which implies 50% concealment). In addition, a wraith can use an aura of unnatural once per day.
The wraith's creature weapon drains a point of constitution on-hit if the target fails a DC 11 fortitude saving throw.
The wraith summoned by the summon undead feat is similar to the standard creature, but comes from the blueprint x2_s_wraith and has the following enhancements (which increase its challenge rating to 6).

All three saving throws are increased by 1.
Armor class is increased to 18.
Hit points are increased to 45.
Discipline has ranks, giving a net skill of 12.

There is a summoned wraith blueprint named nw_s_wraith that is apparently unused. This wraith is identical to the standard creature, except that it is not incorporeal.
Community content is available under
CC-BY-SA
unless otherwise noted.